Environment Concept Art 16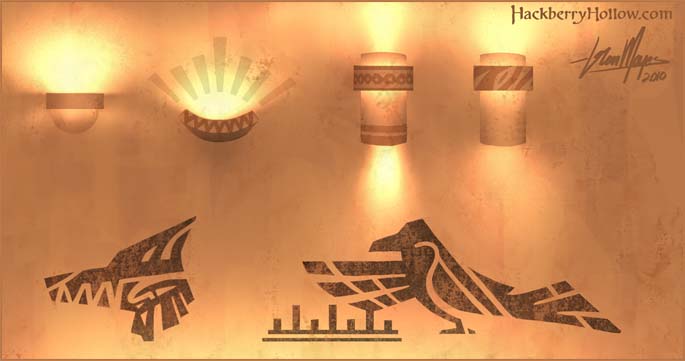 I've been doing some more detailed work for the desert ninja environment, as well as coming up with a style for the art in their culture.
This direction went a lot more towards the Native American style, with no Japanese mixed in (we are planning to mix the two styles). Experimenting with just the one style is okay because I've already immersed myself quite a bit in Japanese interior design (back when I was a nipponophile). Now that I've experimented with the Native American style some more I'll try mixing the two as I create some concept art for the Grand Hall.
Also, kudos to Adam, who just now bravely drove to Starbucks, daringly parked his vehicle and sat there heroically with his laptop open, his hair wafting in the breeze (at least I think it was wafting; I'm not sure if the windows were rolled down). Anyway, we just barely switched over to a new hosting service, and to my horror I discovered I couldn't upload images! Adam, with his clairvoyant mega-brain, was already aware of the danger and was en route to Starbucks: the Fortress of Solitude for people who have to wait an entire day for the guy from the ISP company to show up and fix their internet.
It's fixed now (obviously) as evidenced by the very orange image above. Let us all thank our hero. Adam. He who braved roads, speeding Toyota cars, and coffee junkies to bring you this JPEG. We will always remember his service to our blog posts.