Prop Concept Art 2
This is the start of the process of this particular prop design (we'll be posting more finished designs of this prop later).
We've established Preston, the main character, as somewhat of a redneck. Nothing says redneck more than someone who lives in the wilderness in an old cabin, drives an rusty truck that barely holds itself together, but yet he also owns the best modern firearms that a civilian can legally buy.
"Best modern firearm? But where's the scope?" you may say. Oh you of little faith. Preston is a redneck. He doesn't need a scope.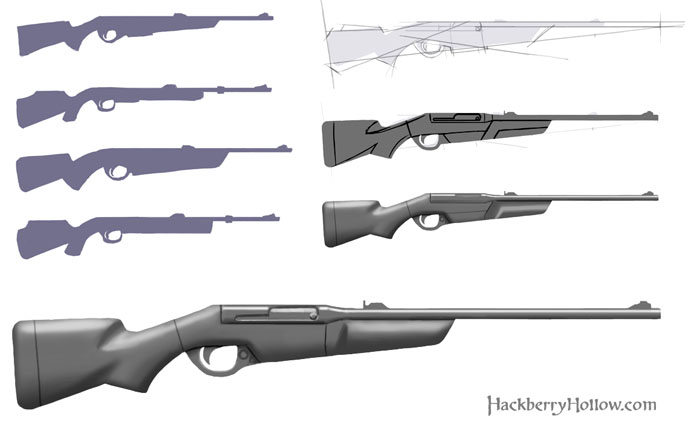 For weapon design I like to start out with the silhouette shape first and find what works there. It's easy to move things around and change the proportions and angles by adding solid shapes and shaving off angles with the eraser tool. It kind of feels like sculpting, which is why I like it. Plus the silhouette of a character or prop is the most important part of the design, so why not start with that. From there I'll add some guidelines, figure out what all of the angles of the design are doing so I can adjust them and hopefully strengthen them. After that I usually do the rest of the adjustments free hand as to what feels right.
I had to consider the probable character design for the grip of the gun. The character's hands will be bigger in proportion to a humans, so I needed to take that into account, which is why the trigger guard and grip is much bigger. And having the bigger grip does do some interesting things to the shape of the gun, which makes it more appealing and unique to this comic.
We'll be spending a lot of time on this weapon because Preston has it with him pretty much most of the time, and will probably also be one of the props that we'll make a 3D model out of because of how often it's shown.