Environmental Concept Art 3
Here's a couple of really quick concept art paintings. We've been working on what the landscapes will look like where Preston lives. We've decided to have the climate and topographical features be similar to the coastal areas of Northern Washington and Canada (with the requirement that the coastline has limestone rock formations).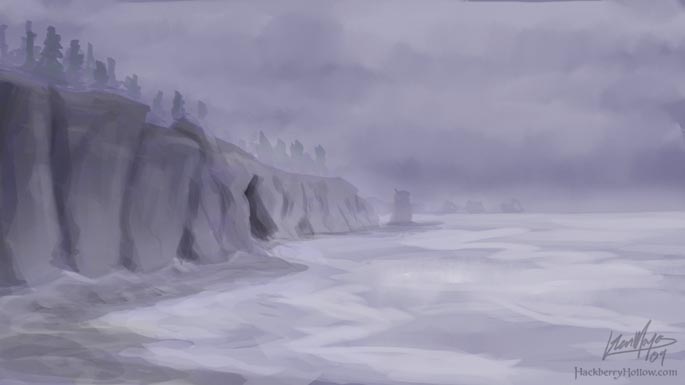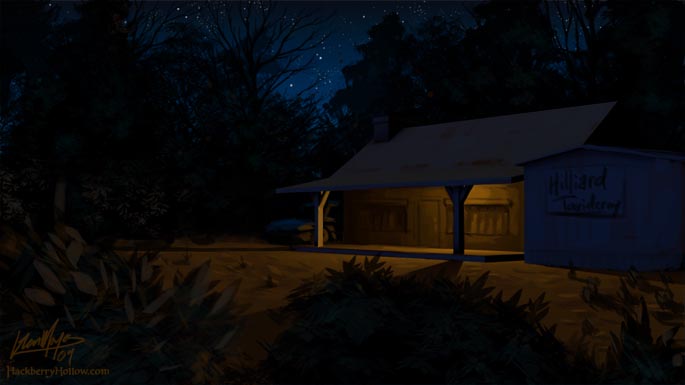 I'll be doing a lot of concept art for this region of the Hackberry Hollow world because a lot happens here in Chapter 1. I want to figure out what each area will look like during the different times of day and seasons. So in the case of Preston's region, I painted what it could look like during the Winter season when the fog is thick (first image), and at night when all the crazy stuff happens in the Chapter 1 (second image).
The benefit of doing quick paintings like these for each scene is that we can take all these paintings, line them up in chronological order as they appear in the comic, and have a really good idea about what the color pacing of the comic will be. We'll be able to tell if the audience runs the risk of getting ocean blue fatigue, foggy gray fatigue, or apocalyptic red fatigue.