Vehicle Concept Art 2
We've shown Preston's truck twice on the blog so far, and we haven't spent a lot of time figuring out exactly what his truck looks like until recently. So here's the current design for Preston's truck in its full redneck glory.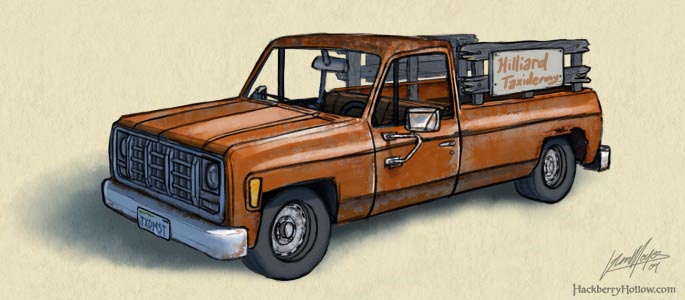 For the longest time I've never been very good at drawing cars or trucks. It been one of my weaknesses as an artist. This is definitely the best truck I've ever drawn, even though the design brief for it was to make the truck look as crappy as possible.
The Hilliard Taxidermy logo on the side of the truck is temporary. Shane and I (the two graphic designers turned illustrators) will be working on the finished logo at some point in the future. But for the purposes of having a 3D model made of the truck, it doesn't really matter if the logo is finished or not.
Adam is almost done with the pirate ship model so that's the reason for the rush on this bit of concept art. Shane and I will now go back to busily working on the character designs.